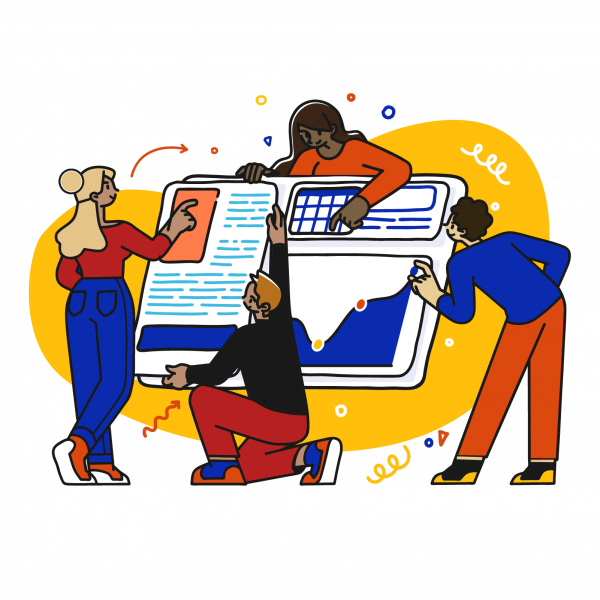 Managed Cloud Hosting
Cloud hosting affords companies of all sizes a wide range of benefits, including increased security and flexibility, and with the help of the cloud specialists at Trinsic, it's more accessible than ever before! If you're already familiar with cloud hosting and would like to take your business' capabilities to another level, please reach out to us! If you'd like to learn more about cloud hosting and how it can help your business, read on!
What is Cloud Hosting
Cloud hosting makes applications and websites accessible using cloud resources. Unlike traditional hosting, solutions are not deployed on a single server, rather, a network of connected virtual and physical cloud servers provides the hosting functionalities, ensuring greater flexibility and scalability.
Why Cloud Hosting? 
Cloud hosting offers numerous benefits. Beyond the cost savings of offsite hosting, you can also expect:
Reliability
As opposed to the ever-present possibility of failure with in-house hardware, cloud hosting takes place in an offsite data center made up of numerous servers with multiple redundancies that protect against failures and ensure ongoing availability to both you and your web traffic.
Physical security
The data centers where servers are stored have multiple security measures in place, thus preventing unauthorized individuals from accessing or harming servers.
Scalability and Flexibility
The resources provided in a cloud hosting setting can easily scale to the needs of a client and aren't limited to the physical constraints of a single server.
When it comes to any type of hosting, security is incredibly important. With cloud hosting, your data and other digital assets are being stored remotely, and keeping it all safe is of paramount importance. That being said, there are a number of measures taken to protect your business' assets and IP, such as firewalls, penetration testing, obfuscation, tokenization, virtual private networks (VPN.), and more. 
Work With Trinsic Technologies
Trinsic Technologies would love to be your partner, with a full suite of services tailored to meet the ever-changing needs of your business. Whether you're looking for a dynamic partner for your next tech project, IT outsourcing services, private cloud services, or anything else in the tech sphere — let us know! We'd love to walk you through the specifics of our variety of cloud services with respect to your business's needs.
The best part? When you work with Trinsic, our team is always standing by to offer support — you'll actually enjoy speaking with us!